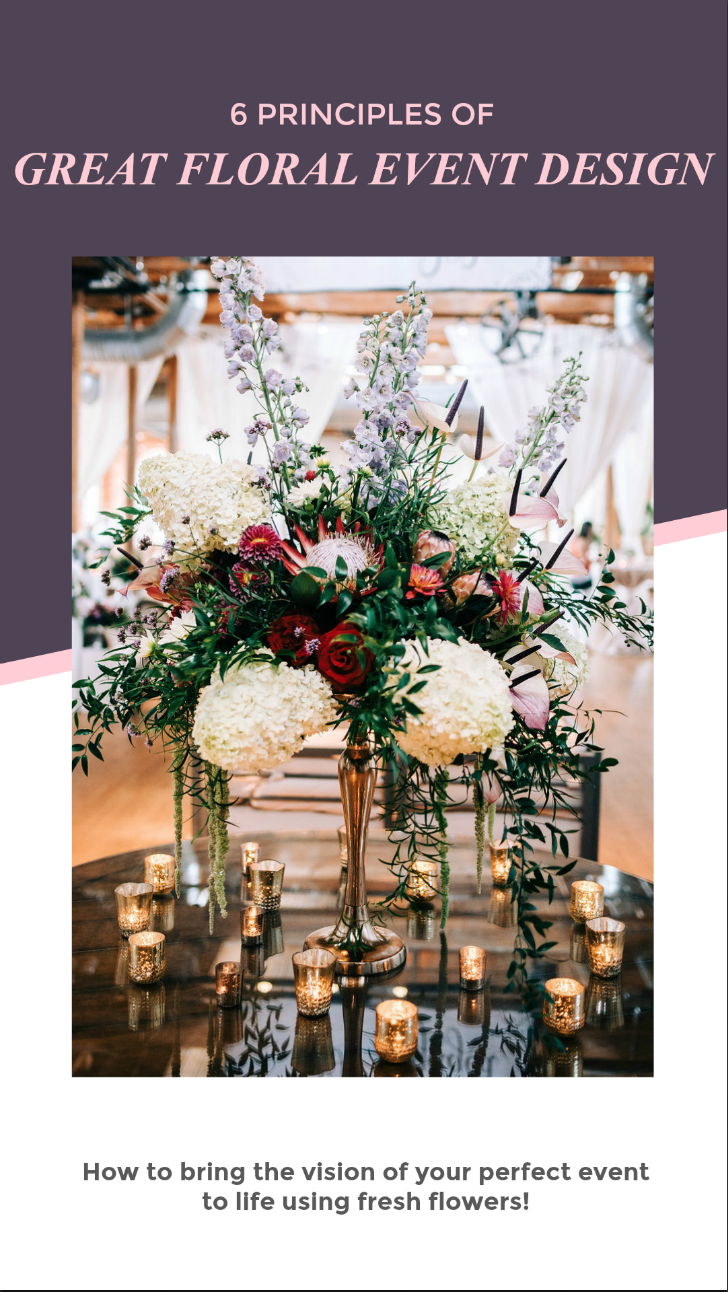 Great news! Today we are introducing principle #2 in our '6 Principles of Great Event Floral Design' series!
As you may recall, our award winning florist Joseph is breaking down everything we need to know about incorporating florals into event design into six easy to understand sections.
Last month we introduced principle #1, color – and man did we learn a lot!
Without any further ado, let's jump into principle #2: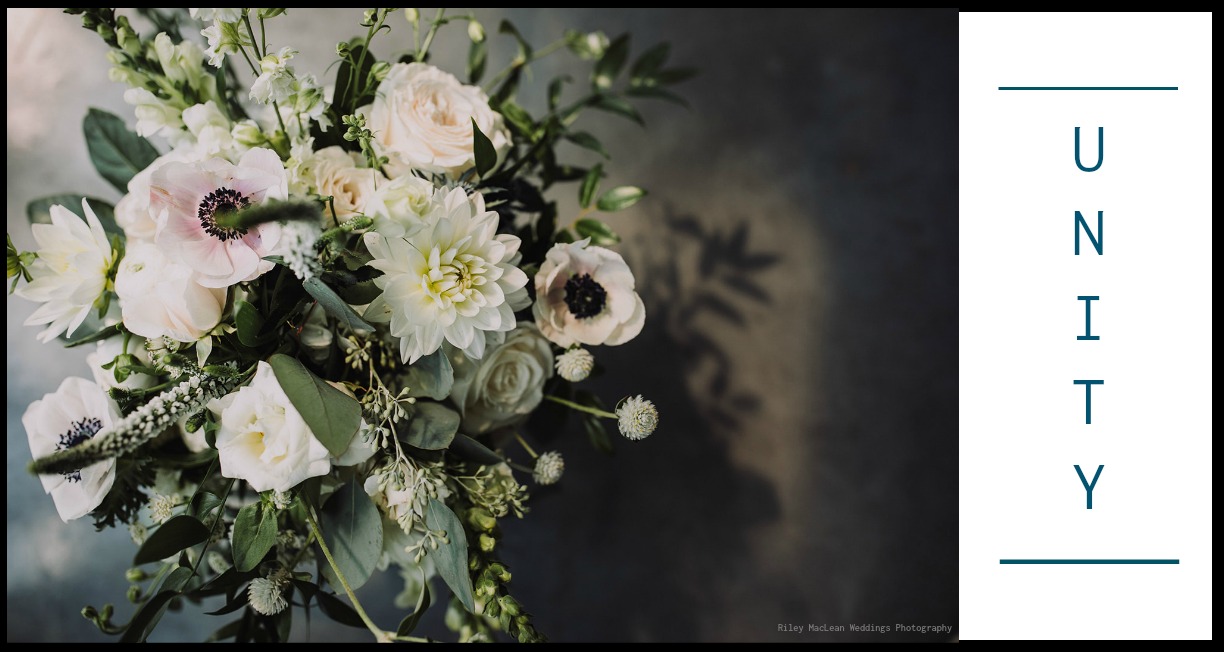 What is Unity?
When I asked Joseph what he meant by Unity, he gave me an easy to understand substitution word. "Oh that's easy! Just think of Unity as another word for harmony."
Ah yes, that does make a bit more sense! Harmony within your design.
Principles of Design
"Artists across multiple visual art forms use what are called 'The Principles of Design' when creating their masterpieces." Joseph explains. "I have found that creating unity within a design is most helpful when following these principles."
They are as follows:
Balance
Dominance (Emphasis)
Contrast
Rhythm
Proportion (Scale)
"Unity in a floral design means that all of the 'Principles of Design' (as listed above) are being activated and the elements of the design are in harmony to each other. It's truly the difference between a design looking professional/finished and a random jumble of flowers."
How Unity Can Be Used
Unity isn't just for floral design though. Joseph was quick to add that the importance of Unity throughout an event as a whole is just as important.
"The concept of Unity applies to all design work. From each individual bouquet to the scope of an entire event."
An example of this unity throughout an event?
"I'm a big fan of repetition-it's great for creating harmony. For example; using patterned linens throughout a wedding reception will reinforce this principle of Unity. Using chargers, or plates for place settings that have a similar pattern or color to the vases, votive candles, signage and lettering (from invitations to chalkboards to table numbers) all of this help to unify the look of an event."
What about things that throw-off Unity?
"For me, balance, scale and proportion are the main culprits. Is the design too large or too small for the space? Are the elements of color and light working overpowering other elements or are they working together for the best result?"
To Summarize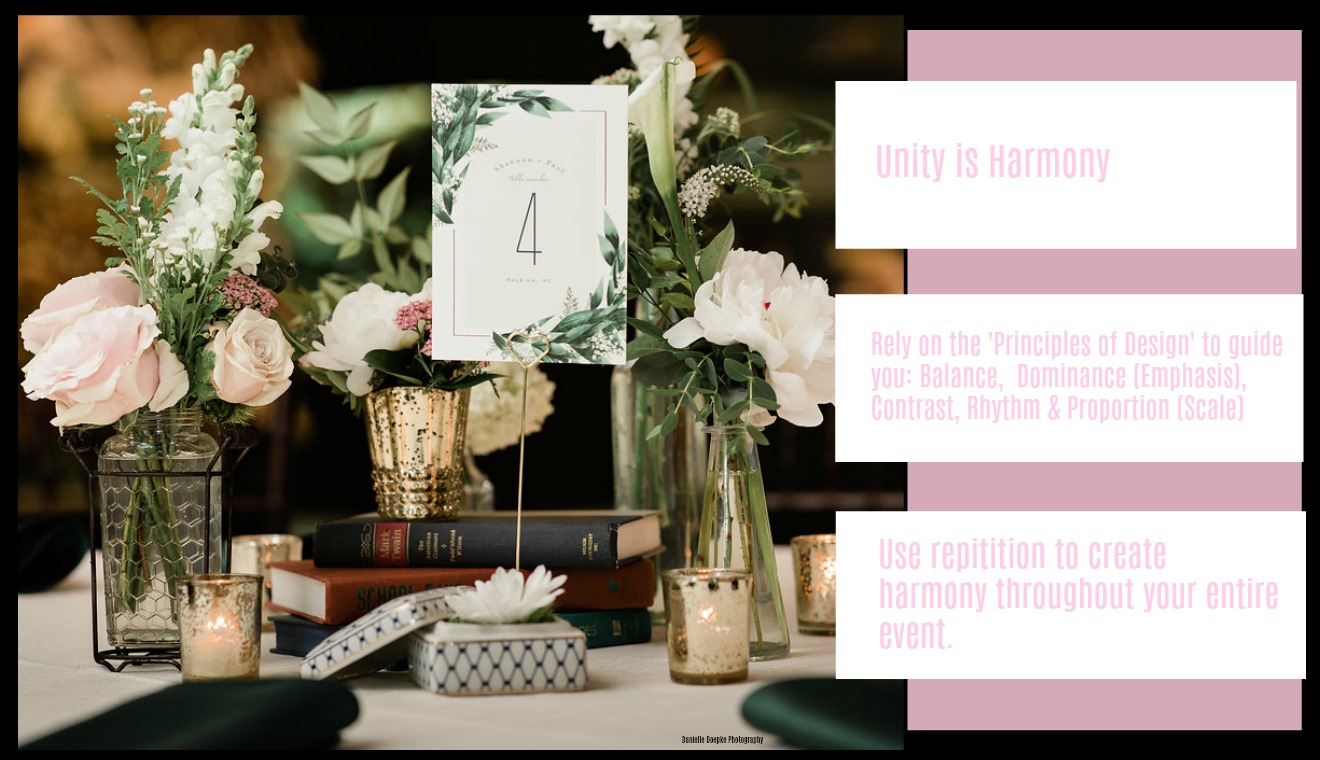 A Final Thought on Unity
"Look to Mother Nature for inspiration of Unity and Harmony" Joseph explains. "It's all there for you, you just have to take the time to notice all the wonders that this world provides. The spiral growth of a nautilus shell or a cute little succulent plant, it's all there – I still discover these elements of unity every day."
Hope y'all are enjoying this series so far! Can't wait to see what next month's principle is!
Categories: