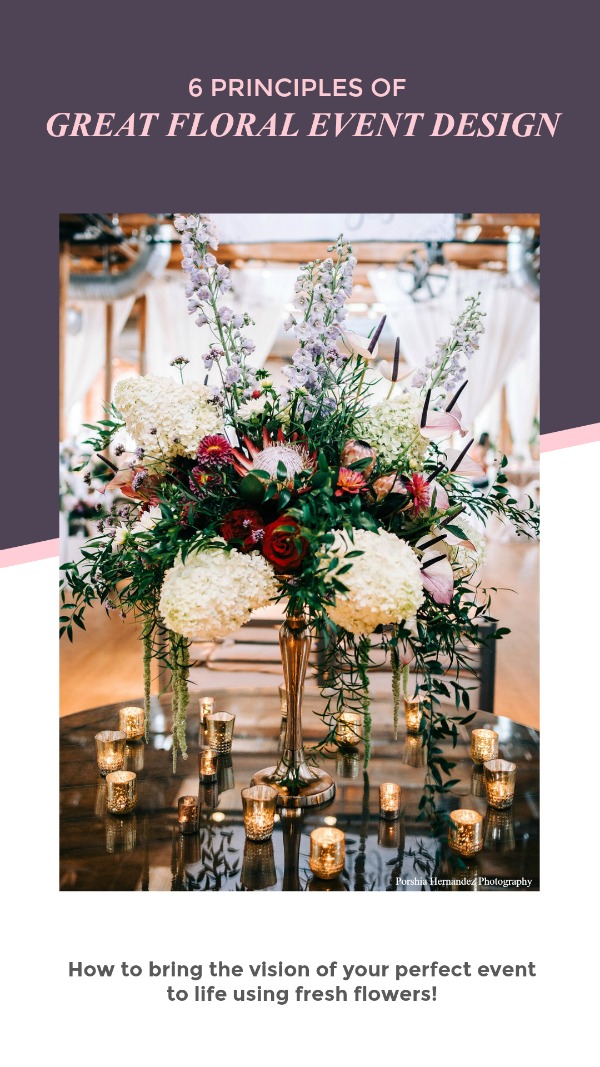 Welcome to a section of our blog we like to call Petal Pointers, in which our lead event and floral designer Joseph Barnes, bestows some of his amazing knowledge on us about floral event design!
Joseph has broken these principles into 6 different sections that we will be discussing over the next several months, so stay tuned each month for a new principle.
Who's excited!?
We certainly, are! Without further ado, here is event floral design principle number one: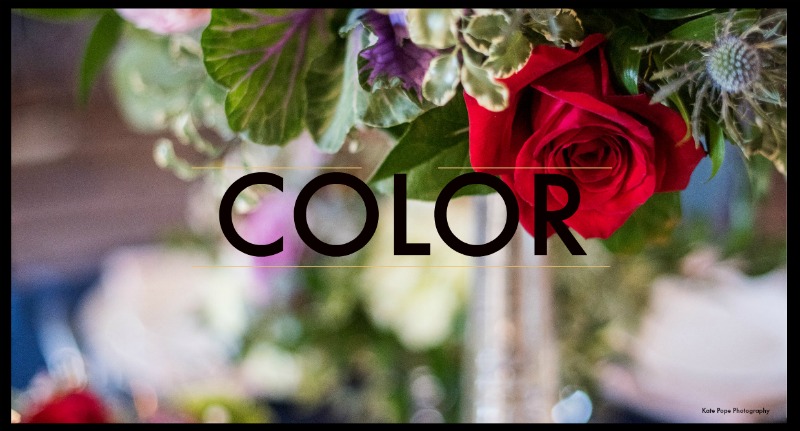 50 Shades of NO!
We get it, you love blending and matching your colors. It makes you feel all warm and fuzzy inside.  Something about the matchy-ness of it all gives you a sense of peace and harmony in what is, we are sure, an otherwise stressful planning process for your upcoming wedding/birthday/bat mitzvah. Plus, Grandma always told you to match your flowers to the bridesmaids dresses to the centerpieces, and heaven forbid we defy grandma! Unfortunately, in order to create an event that is the epitome of gorgeous, we are gonna ask you to get a little outside of your comfort zone.
Our award winning florist, Joseph explains: "If your event is taking place during dusk into night time, using different shades of the same color will often times back fire. For example, purple has been trending a lot lately. Our clients will come in wanting to pair a bold purple linen with varying shades of purple within their bouquets and centerpieces. The problem? The darkness of the evening will blend all that purple into one solid blob of color. When you get those pictures back from your event it's going to be hard to differentiate between the table, the flower and the centerpiece."
Joseph suggests to turn to Mother Nature. "Take for example a honey crisp apple. If you really examine the apple you will find a plethora of colors that people wouldn't normally think to pair together. Red, pink, green, yellow, a little orange… whether it be a flower, a sunset or event a piece of fruit- there is no place better to get inspiration for your color palette than nature."
Don't Be Afraid To Be Bold
"A lot of beautiful cultures around the world embrace and celebrate color, and because they are not afraid to do so, their weddings and events are always vibrant and joyful. The trap and  the trend at the moment is to stay completely neutral. However, nothing thrills me more than when a bride isn't afraid of using some bold colors- it makes smaller bouquets and arrangements pop in more dramatic and romantic ways."
We aren't saying your upcoming wedding or event has to be full of neon colors resembling a highlighter explosion, but take Joseph's advice and walk on the wild side by adding a bold color to your color palette.
Mix & Match Metallic Accents
Metallic accents are a great way to add glamor to your events. Silver, Gold, Copper- choose one or several!
"There is a common misconception that you have to stick to silver or gold and you can't mix them. This couldn't be further from the truth."
"Gold and copper bring a lot warmth-and silver is going to reflect any other color around it like a mirror."
Mixing your metallics can also help your designers bring some creative choices to life. Especially since the majority of catering companies will be using silver chafers, silver ware etc. don't shy away from mixing your metallics!
To Review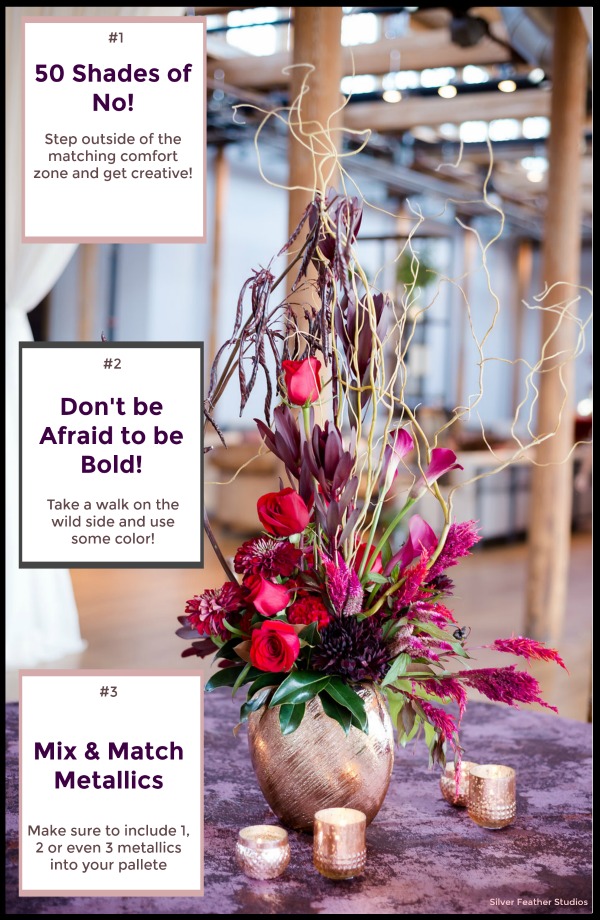 Thanks for stopping by! Don't be afraid to pin and share. And if you are interested in more examples of floral design by Joseph and others, head on over to our floral page gallery!
Categories: