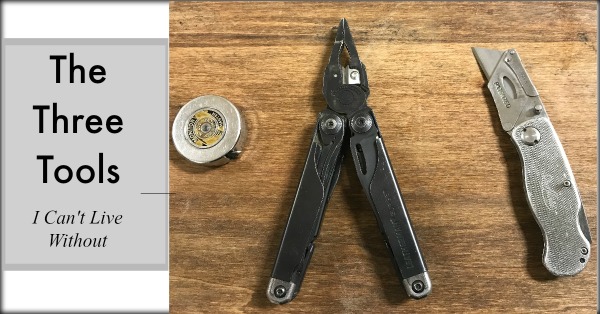 Hello friends!
Welcome to another fun premiere section of the blog we like to call 'The Oak Scope". This is where we will explore some fun with our custom builder Jeff Nugent, as well as our lead event designer Amalia Sarnecki-Ackley. Today we get to introduce you to Jeff, which makes me really happy because he's awesome, hilarious and crazy talented (see some of his creations here)
The Big Three
I asked Jeff an intimidating question for today's blog: What three tools can you not live without? And let me tell you, for a man with a workshop full of tools I was surprised by his answer!
"Like the Boy Scouts, MacGyver, and Tim Allen, I like to be prepared and, for me, that means carrying the big three."
(Of course, any of us that are This Is Us fans immediately start tearing up at the phrase 'the big three' so I had to take a moment and refocus before he proceeded!)
Jeff continued, "Of course while in my shop I have access to bigger and perhaps better tools at my disposal that do what these three do and more, and yet I often find myself pulling one of these off my belt or out of that tiny pocket in my jeans to get the job done."
So what are my three 'must haves'?
Multi Tool
"The multi- tool provides pliers, scissors, blades, screwdrivers, etc., which handle almost all of the 'fix-it' challenges faced on any given day."
Here are some great examples of Multi Tools that are Jeff approved!
Tape Measurer
"I prefer a 6′. The tape measure, light and compact, handles the "will it fit?" and " How long/wide/deep"? questions."
You can find super compact small tape measurers that don't take up a lot of space but still get the measuring job done! I totally squealed when finding these adorable key chain ones!
Utility Knife
"The knife… cuts. Quickly and cleanly- wood, plastic, fabric, paper. With it's reversible and replaceable blade, it could literally be a 'life saver'.  I'm hoping I'm never faced with that particular task, but…"
After doing a bit more research on utility knives after talking with Jeff I was absolutely amazed by their versatility. They really can cut anything and are used in many different professions and hobbies across the board!
"It's no big surprise to those who know me, that I will stop to tighten, measure, or cut ANYTHING that needs attention while out shopping, dining or really anywhere. And that's possible because of these tools. "
When I asked Jeff about particular brands he prefers, he said "Over the years, I have carried various brands with a variety of sizes and features, but truthfully, I have no actual brand loyalty to speak of."
So there you have it! From a real life 'Mr. Fix It' the three tools we should all have available at the drop of a hat. I don't know about y'all, but I'm adding these to my repertoire asap!
Categories: