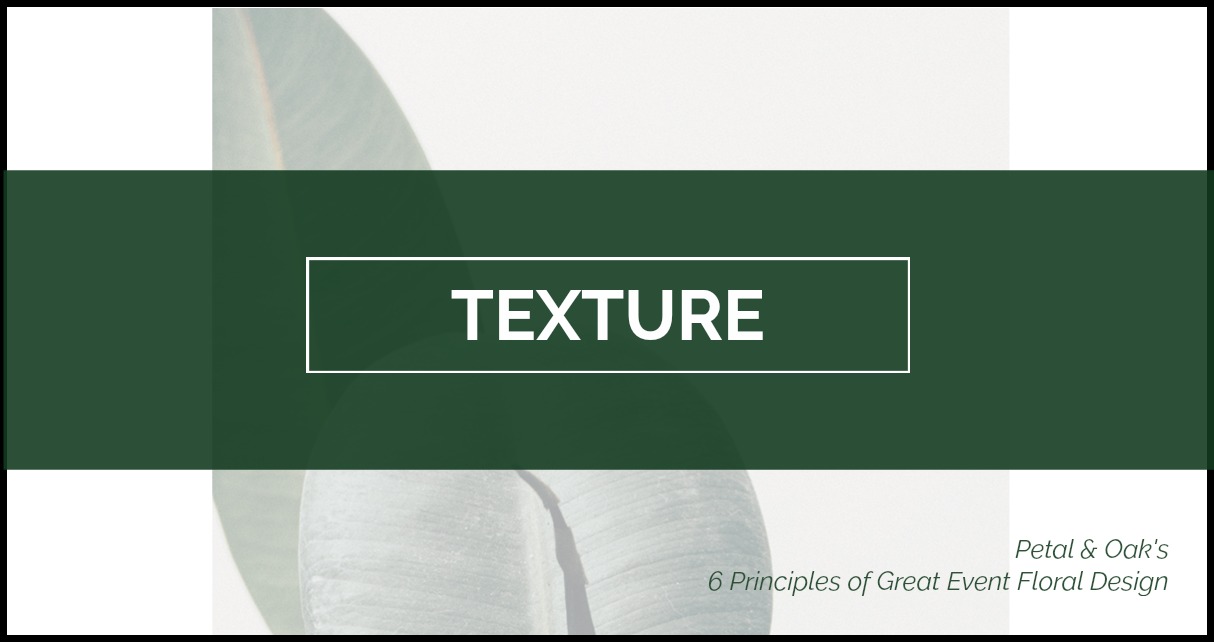 What is texture? Why is it important in floral design and furthermore event design? Well no worries y'all, our master floral designer Joseph is going to answer all the questions for us this week while we discuss principle #5 Texture!
What is Texture?
tex·ture
noun
the feel, appearance, or consistency of a surface or a substance
It's fascinating discussing such seemingly simple elements with a designer like Joseph. Suddenly an entirely new aspect to each principle is revealed, almost like putting on glasses for the first time.
"Texture is rough or smooth. It's shiny or dull, course or fine. It is an element that is both tactile and visual. Really, texture is a study in contrasts."
Texture in Contrast
Have some fun with different textures, and play around with mixing and matching.
"Contrast, or difference, is achieved by placing opposite or unlike elements together so as to emphasize their differences."
There is a fine balance though. Remember all the way back to our first principle, color? We talked about how important it was that there is some variety to your colors, and avoid matching all elements of your event design. This is similar.
"Contrast stimulates interest, but too much contrast divides attention."
So, what?
Ok, so why is this so important in floral and event design?
"It's extremely important because the texture of a vase, flowers, foliage and more need to be taken into account to ensure that the combined texture will have a desirable flow and consistency. Texture enhances the desired style of an arrangement."
Of course I asked for examples, because who ever fully understands a concept without some examples!
"If you want a sleek, modern look, opt for smoother flowers and greens: Tulips, roses, branches, and grasses create a sophisticated feel, as does using a smaller mix of varieties. If you want a more romantic look focus on garden roses, peonies, and amaranthus. They have soft, delicate, and flowing textures, and feel romantic.  On the opposite end, a field of wildflowers feels rustic and relaxed. Combine different sizes, shapes, and textures of your favorite blooms to increase the relaxed and rustic textures."
Don't Forget!
"Containers can add just as much to the texture of special event floral arrangements as the flowers themselves. A shiny silver or gold finish on a vase results in a completely different look and texture than a white ceramic vase does. Polished and reflective vases imply elegance while a coarse-textured wood box is more natural and informal. If you are having a rustic themed event, choose wooden or distressed metals and vintage accents to make the most of the texture of the vase. If you are looking for a sleek, more modern design try using shiny and smooth, glass vases."
A Quick Summary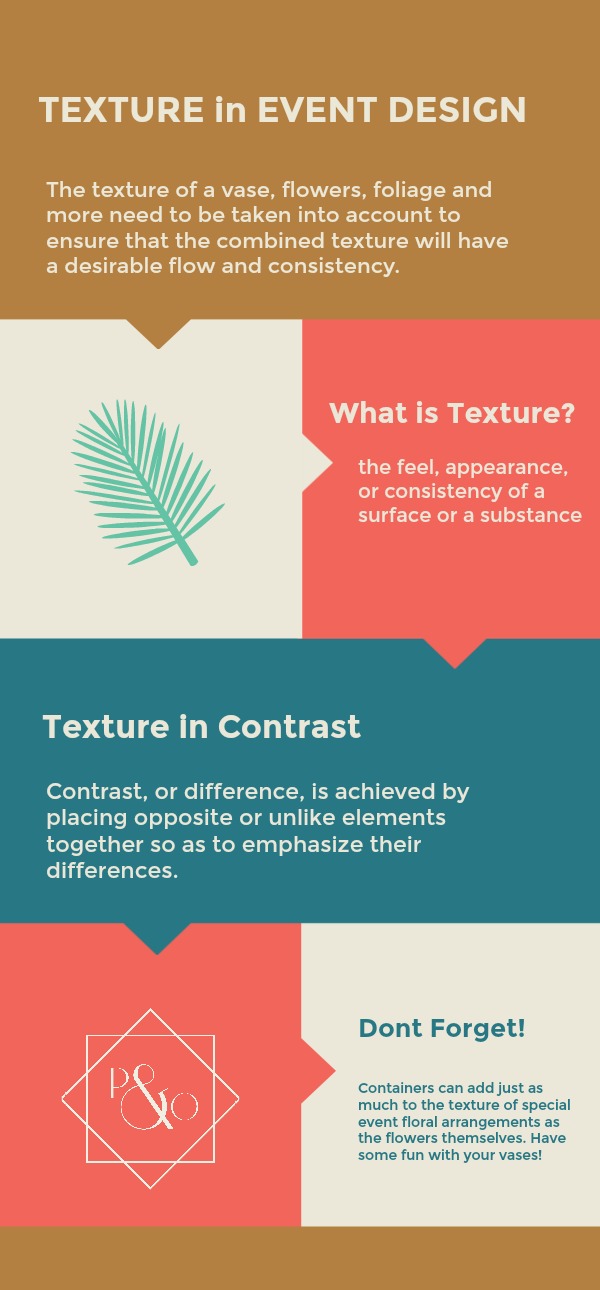 Categories: